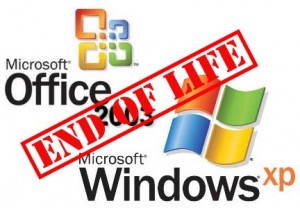 It's been a month since Microsoft ended support for Windows XP and we've been busy providing advice, upgrades and migrations for our clients.
While some clients are OK with the increased security exposure by using Windows XP others have taken the decision to move to Windows 7.
Some PCs have been re-used with a new installation of Windows 7 Pro, while others have been replaced with a new machine.
Our clients have been delighted with older PCs that have been re-used as they're now running fantastically with a bit more memory and Windows 7.
As Office 2003 is also no longer supported by Microsoft and will not receive any security updates we have also been migrating clients to Office 2013.  Some have opted for a subscription to Office 365 while others have taken the route of using an Office 2013 suite with no subscription. There are some big differences to each approach and the right decision for each client depends on many factors.
Please get in touch if you'd like more information or assistance with any migration – we'd love to help.